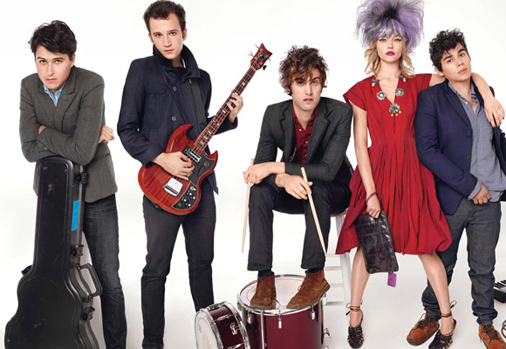 Already Famous.
攝影師Steven Meisel鏡頭下的名模Sasha Pivovarova與音樂人。
Vampire Weekend
From left, Vampire Weekend's Ezra Koenig, Chris Baio, Christopher Tomson, and Rostam Batmanglij, with model Sasha Pivovarova in Bottega Veneta.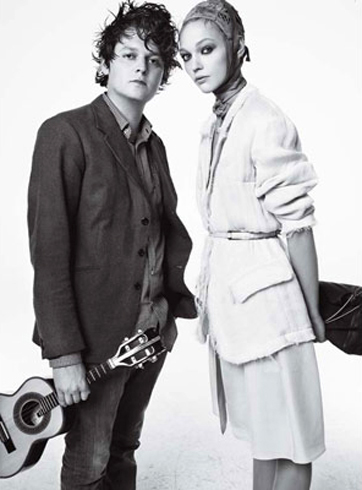 Beirut
Lead singer-songwriter Zach Condon, with Pivovarova in Jil Sander.

"Everyone wants to write the magnum opus," reports Condon. "I wouldn't mind doing it myself."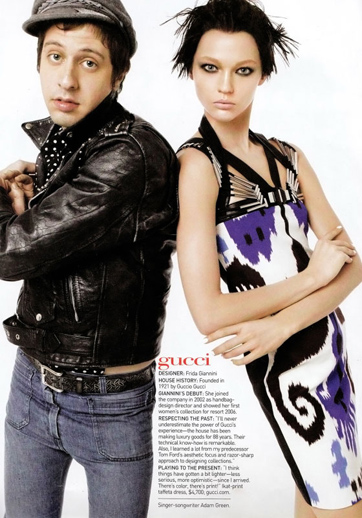 Adam Green
Singer-songwriter Adam Green, with Pivovarova in Gucci.

"This is the main focus of my life," explains Green, "so how could I not make a new record every year? That would just be lazy."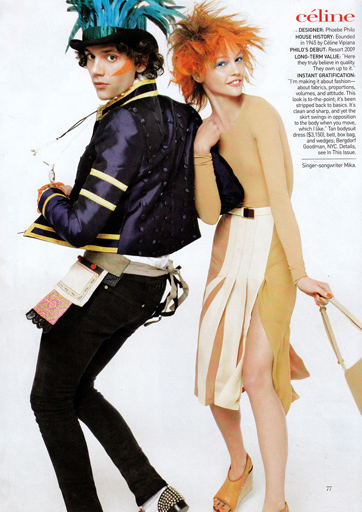 Mika
Singer-songwriter Mika, with Pivovarova in Céline.

"I made a conscious decision to keep taking risks," says Mika. "I've listened to so many second albums, and so often you feel like people are taking a couple of steps back away from the microphone, but I decided to be un-complexed and unapologetic, and that kind of helped me."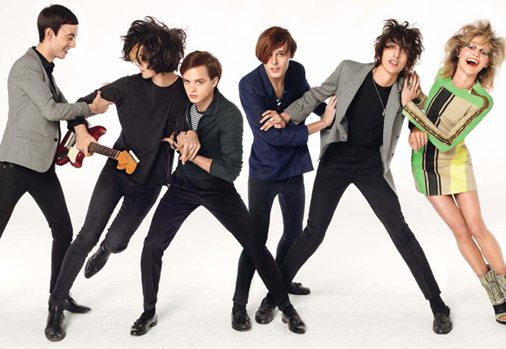 The Horrors
From left, The Horrors' Tom Cowan, Joshua Hayward, Joseph Spurgeon, Rhys Webb, and Faris Badwan, with Pivovarova in Balenciaga.

"We want to make music that makes people feel something," Badwan proclaims, "that provokes a reaction."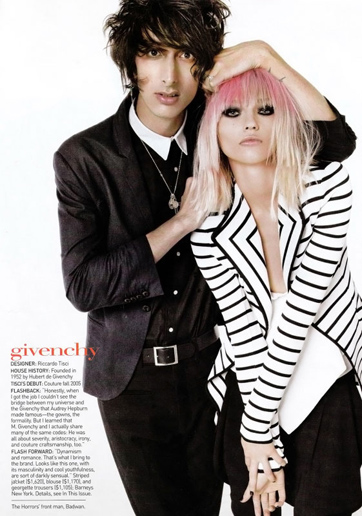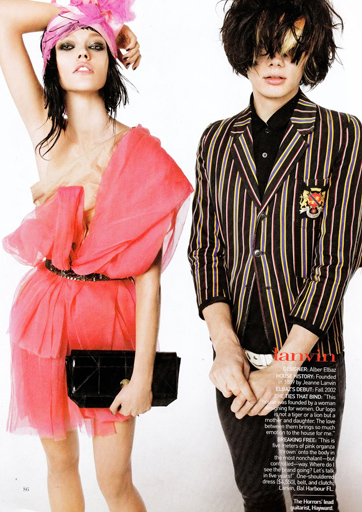 The Horrors
Above: The Horrors' front man, Badwan, with Pivovarova in Givenchy.

Below: The Horrors' lead guitarist, Hayward, with Pivovarova in Lanvin.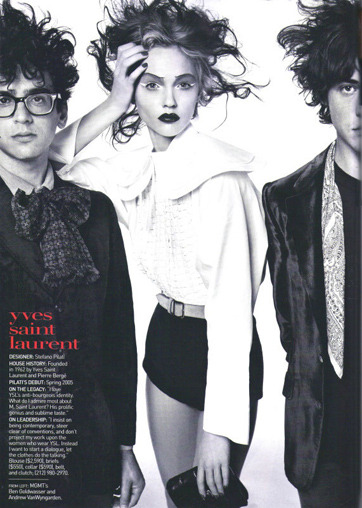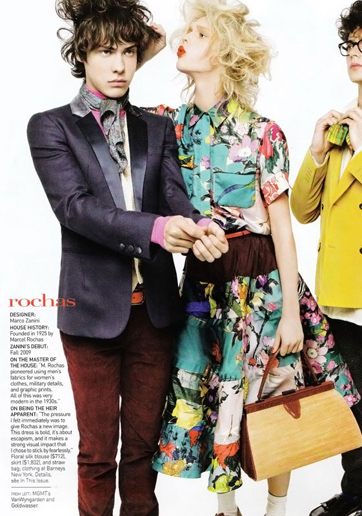 MGMT
Above: MGMT's Ben Goldwasser and Andrew VanWyngarden, with Pivovarova in Yves Saint Laurent.

Below: MGMT's VanWyngarden and Goldwasser, with Pivovarova in Rochas.

"People assume that we used to be really weird and that we toned it down and started writing pop songs in order to sell out," says Goldwasser. "When really, the songs that got so big were some of the first songs that we wrote. There wasn't anything contrived about it."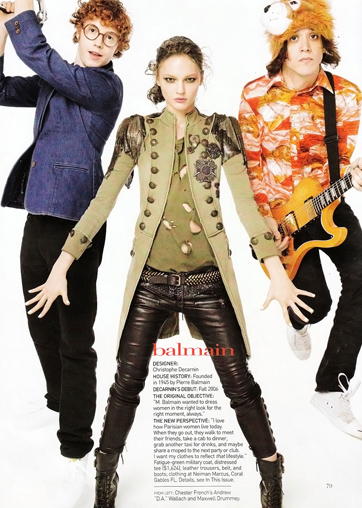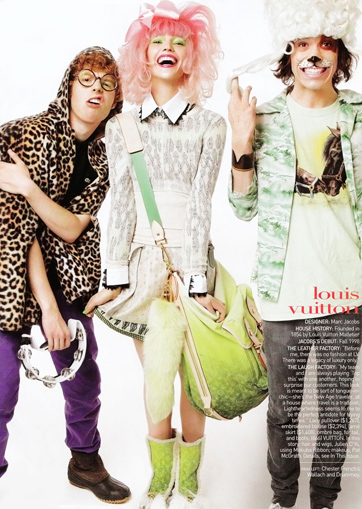 Chester French
Above: Chester French's D.A. Wallach and Maxwell Drummey, with Pivovarova in Balmain.

Below: Chester French's Wallach and Drummey, with Pivovarova in Louis Vuitton.

"We'd made the music without a real regard for building an audience," Wallach explains.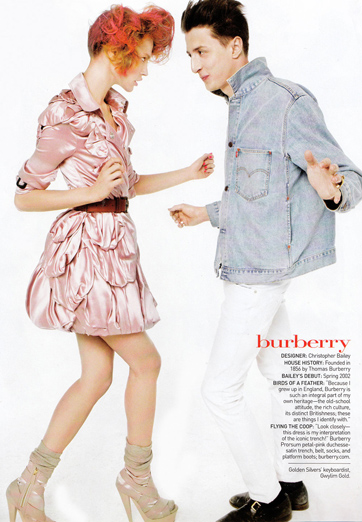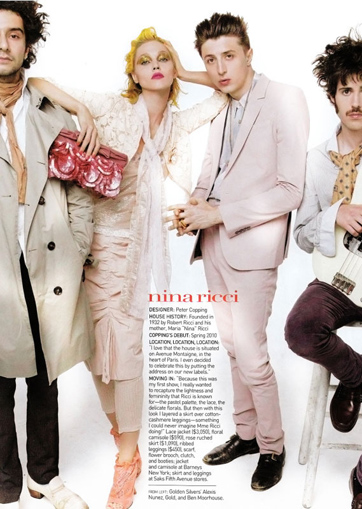 Golden Silvers
Above: Golden Silvers' keyboardist, Gwylim Gold, with Pivovarova in Burberry Prorsum.

Below: Golden Silvers' Alexis Nunez, Gold, and Ben Moorhouse, with Pivovarova in Nina Ricci.

"There wasn't any big concept," Gold explains. "It was more like, I've written some songs, and I want to play them."


Info: www.vogue.com/feature/Indie_Bands_MGMT_Beirut_VampireWeekend_AdamGreen_ChesterFrench_In_Vogue/?mbid=fbvps